The tranquillity of nature and wondrous mix of 100% organic and pure ingredients is what we at Wonders of Heaven are all about. Presenting the complete hair care regime built to treat all hair problems with our single powerful solutions. Wonders of Heaven (WOH) is t he house of organic hair care products and accessories. Join us at WOH Family and lets celebrate growing & glowing hair together.
Presenting the 100% Organic Regime Treatment for a Better Hair, Beautiful Skin & a Healthy Body. Single Solution Science and Results in 2 Weeks with Grow&Glow by Wonders of Heaven
Sale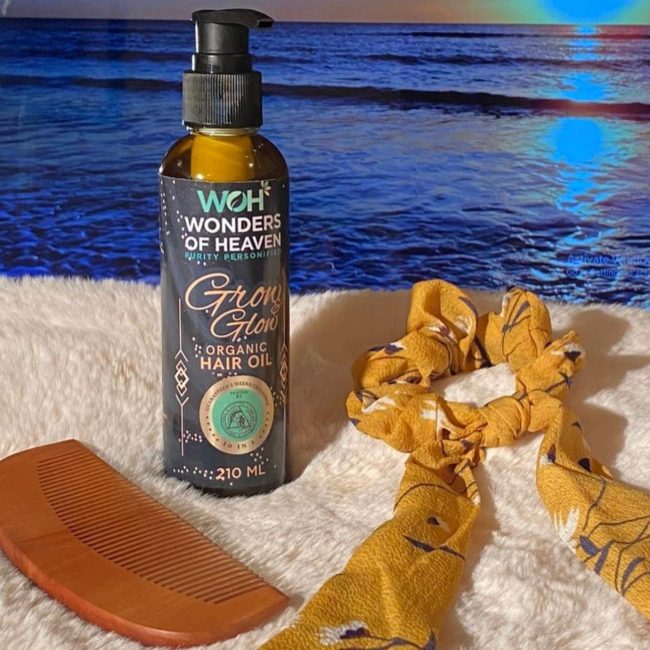 I dont usually buy hair care products on the internet but i used it from my sister's bottle who ordered a bottle for herself.. used it about 2 to 3 times and honestly started enjoying the shiny soft hair which i never felt before. Came back and ordered a personal bottle all for myself. 10/10 stars
Assalam Alaikum im using hair oil for man and its amazing. I have been using for a month now just ordered a second bottle. It gave me results from very first week of use. i am happy to see a pakistani brand is selling such great stuff finally for a very good price 🙂
The oil has a bad smell but i guess thats what you get when the product has no preservatives or chemicals for artificial fragrance or smell. Love your approach and the you've made this hair oil just to help everyone of us with our hair problems. Super sweet
Hiii i have been using your product for about 2 weeks now and Alhumdulilah it has solved my hair loss problem by a lot.. much less hair on the comb than before after a gentle brush. I love the wooden comb that came along with the package thankyou wonders of heaven
I bought this product from a random ad that i saw on instagram and ever since then this product has been the best choice i have made for my hair care. Love the easy to handle packaging and the nozzle. Overall a great product. Highly recommended
Just wanted to thank you again for this wonderful hair solution. I have used this 3 times in 9 days and I'm not exaggerating when i say i've witnessed a massive improvement in nourishment, shine and thickness. My frizzy hair days are long gone 🥰 keep up the good work.
My wife ordered a bottle and we share it now. Its giving both of us good improvement in our hair. We feel so young again haha Please keep up this quality we love grow and glow hair oil
I used a lot of artificial products on my hair before and that made them super weak and thin and even started having massive hair fall but then i saw your hair oil and switched to organic product use only. My hair are much better than before and i feel great. Thankyou for saving my precious hairs grow and glow hair oil
Discover the essential guide for routine hair care & healthy body diet with the all 10x ingredient organic solution of Grow & Glow Oi, Protein Shampoo & Detox Tea